"Can quantum theory provide evidence of the interconnectedness of life? We humans are merely made of electrons and quarks. All these things are still one of the greatest mysteries in physics. Their behaviors are unpredictable and separated from our daily experiences. Up to now, physics can only describe them in terms of quantum theory with diverse interpretations. The questions about locality and reality, which are lying within the foundation of the theory, remains fundamentally unclear for a physicist. However, the undeniable fact about the existence of quantum entanglement shows that there is a possibility that all things in the universe are interconnected. In this talk, we will discuss some of the relevant quantum interpretations that indicate the related interconnectedness, and its relation to the mesoscopic scale where life exists."
Pusat Kajian Sains Keberlanjutan dan Transdisiplin, Lembaga Penelitian dan Pengabdian Masyarakat (PKSKT LPPM) IPB University kembali mengadakan Afternoon Discussion on Redesigning the Future (ADReF), Selasa (30/6). Kali ini diskusi membahas tentang "Life and Quantum Interconnectedness" dengan menghadirkan Prof Husin Alatas, Pakar Fisika IPB University.
Kepala PKSKT LPPM IPB University, Prof Damayanti Buchori menerangkan kegiatan diskusi ini berusaha memberikan pengetahuan baru dan menjadi knowledge platform bagi masyarakat luas. Ia menjelaskan, PKSKT LPPM IPB University memiliki tiga knowledge platform, yaitu Transdisciplinary Tea Talk, Afternoon Discussion dan Graduate Student Mounthly Seminar.
"Dengan adanya knowledge platforms ini, PKSKT LPPM IPB University berusaha mengenalkan masyarakat tentang pengetahuan-pengetahuan baru maupun pengetahuan yang sudah ada, sehingga masyarakat dapat memperkaya wawasan pengetahuan yang dimilikinya," jelas Prof Damayanti Buchori.
Pada pemaparannya, Prof Husin menjelaskan bahwa kehidupan di dunia ini saling berkaitan satu sama lain. Keterkaitan tersebut tercermin pada teori kuantum dalam ilmu fisika. Ia juga menjelaskan bahwa fisika merupakan ilmu observasi dan pengukuran terhadap fenomena-fenomena alam.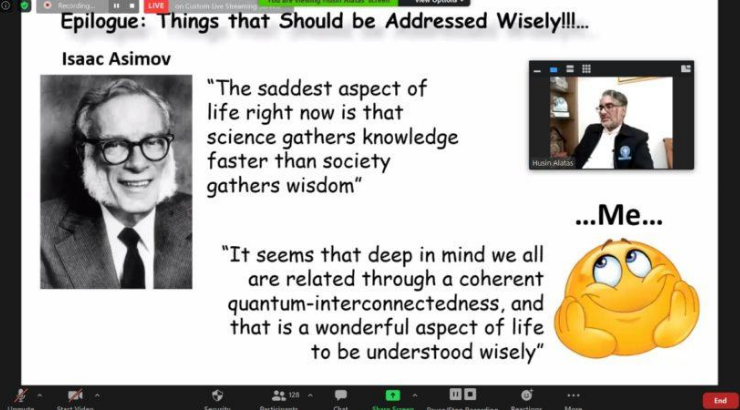 "Fisika teoretis adalah cabang fisika yang membahas rasionalisasi, penjelasan, dan prediksi fenomena dalam sistem alamiah yang dikembangkan berdasarkan kombinasi matematika, abstraksi, imajinasi, dan intuisi. Kegiatan penelitian ini dilakukan berdasarkan rasa ingin tahu terhadap kondisi dan fenomena alam dengan langit sebagai batasnya," papar Prof Husin.
Ia menjelaskan ilmuwan fisika hanya mampu mendeskripsikan 4% fenomena yang terjadi di alam terutama dalam memahami partikel-partikel alam. Sisanya, sebanyak 96% belum mampu dideskripsikan sehingga dikelompokkan menjadi dark energy dan dark matter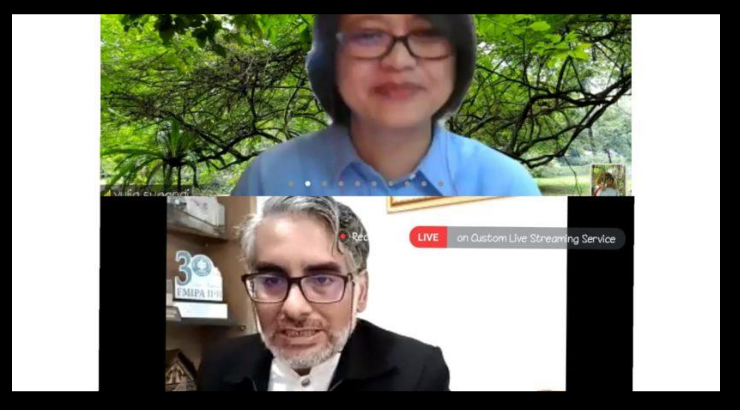 Perilaku partikel di dalam ilmu fisika dijelaskan melalui teori kuantum. Teori kuantum ini diibaratkan seperti dongeng alam semesta yang hanya sedikit sekali bisa dipahami oleh ilmuwan khususnya fisikawan. Namun demikian, teori kuantum ini mampu membantu kemajuan teknologi di dunia.
Ditambabkannya pula bahwa pemahamam realita di level kuantum yang bersifat indeterministik saat ini sama sekali jauh dari memadai dan bahkan mungkin tidak akan pernah dipahami. tetapi interkoneksi yang ditandai oleh hadirnya gejala keterjalinan kuantum (quantum entanglement) bisa diyakini berpengaruh juga pada realita di level yang lebih tinggi, yakni level mesoskopik di mana makhluk hidup hadir.
"Secara holistik, manusia tersusun dari elektron dan atom yang kemudian membentuk sel, janin lalu sempurna menjadi manusia. Oleh karena itu, interconnectedness di semua level merupakan sesuatu yang inheren di alam dan kita mesti secara bijak memahaminya guna membangun koherensi kolektif dalam bermasyarakat," tambahnya.[RA]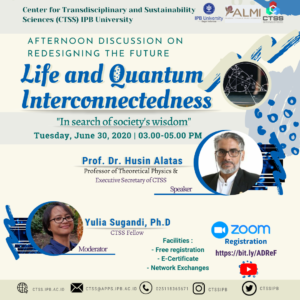 Materi: Unduh Disini