CTSS IPB University Selenggarakan Diskusi Membahas Transition to Life: Lession from Enzyme Center for Trasndisciplinary and Sustainability Science, Lembaga Penelitian dan Pengabdian  asyarakat (CTSS LPPM) IPB University kembali menggelar Afternood Discussion on Redesigning the Future, (1/9). Tema diskusi kali ini adalah Transition to Life: Lession from Enzyme dengan menghadirkan pembicara Prof Maggy Thenawidjaya, Guru Besar IPB University bidang Food Biochemistry. Sekretaris Eksekutif CTSS IPB University, Prof Husin Alatas, menjelaskan diskusi ini merupakan rangkaian diskusi mulai dari fisika, kimia, biologi, psikologi, sosiologi dan kosmik. "Nanti di seri terakhir akan membahas kosmik. Diharapkan ini menjadi seri diskusi yang menarik karena semua diskusi saling berkaitan satu sama lain," terang Prof Husin. Sementara, dalam pemaparannya, Prof Maggy menerangkan reaksi enzim terjadi secara kompleks dan rumit. Reaksi
enzim tersebut juga mengadopsi kuantum, responsif terhadap sinyal yang datang, terprogram, bekerja secara efisien dan sangat terkoordinasi.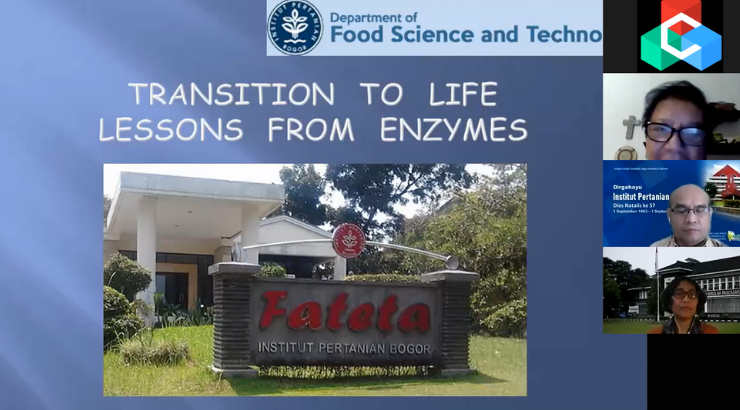 "Enzim itu bekerja sangat kompleks, terprogram, efisien, responsif dan penuh tanggung jawab. Artinya kalau suatu enzim mendapat sinyal, enzim itu segera merespon sinyal tersebut kemudian bekerja sesuai perintah dari sinyal tersebut, kalau sampai menyeleweng sedikit saja dari jalur sinyal tersebut, maka akan ada sel yang mati bahkan akan memberikan efek domino yang bisa menghancurkan," terang Prof Maggy.
Sistem ini, lanjut Prof Maggy, sangat canggih karena harus sangat sensitif terhadap molekul yang berasal dari luar. Ia mencontohkan, jika hormon insulin masuk ke dalam sel, maka enzim akan
segera bekerja secara sistematis satu sama lain. Enzim akan bekerjasama, berinteraksi, dan saling memerintahkan satu sama lain.
"Working together an coordination ini harus terus dilakukan oleh enzim, baik dalam skala kecil maupun besar, atau dalam keadaan sel tenang maupun ada gangguan dari luar," tambahnya.
Seperti adanya COVID-19 ini, pertahanan tubuh akan melibatkan sistem imun yang di dalamnya terdapat berbagai macam enzim. Jadi interaksi antar sel sangat dipengaruhi oleh kinerja enzim
yang ada di dalam sel tersebut.
"Enzim ini juga memiliki tugas yang jelas, sehingga masing-masing enzim yang ada di dalam sel dan tubuh tidak bisa bekerja sembarangan. Meski punya tugas yang jelas, enzim juga bisa bekerja
dalam tim untuk bekerja bersama-sama," terang Prof Maggy.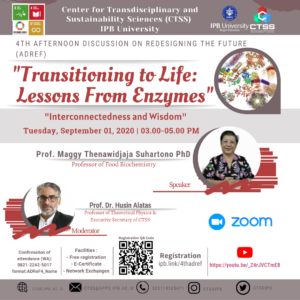 Materi Prof. Maggy Thenawidjaja Suhartono PhD berjudul "Learning from enzyme" : Learning from enzyme