CTSS IPB University Gelar Simposium Internasional,  Bahas Keberlanjutan Lingkungan
Center for Transdisciplinary and Sustainability Sciences (CTSS) IPB University menggelar The 2nd International Symposium on Transdisciplinarity Approach for Knowledge Co-creation in Sustainability (2nd ISTAKCOS), (3/11) melalui zoom meeting. Simposium internasional ke-dua yang diselenggarakan CTSS tersebut mengangkat tema Understanding Complexity and Transdisciplinarity for Environmental  Sustainability.
Dalam sambutannya, Prof Damayanti Bukhori, Ketua CTSS menyampaikan bahwa ISTAKCOS merupakan salah satu program CTSS yang bertujuan untuk mengembangkan ilmu pengetahuan dan keberlanjutan. Melalui simposium ini, CTSS membuka kerjasama dengan berbagai stakeholder dan institusi untuk berbagi pengetahuan, pandangan, serta ikut mengembangkan ilmu yang berkaitan dengan keberlanjutan.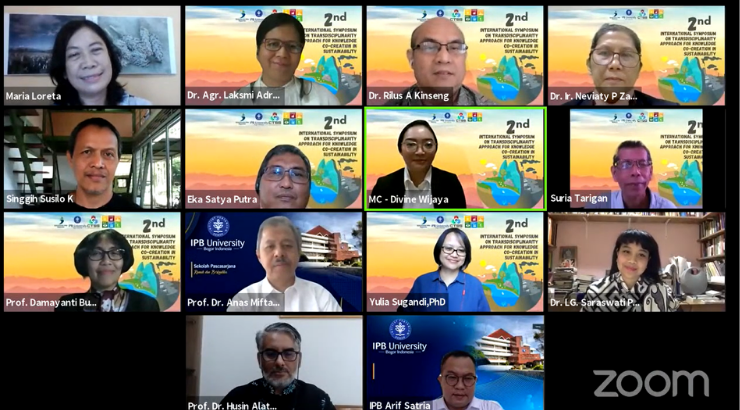 "Pada kesempatan ini, pembicara dari berbagai disiplin, mulai dari filosofi, pekerja lapang, pejabat pemerintah, hingga aktivis komunitas hadir bersama kita untuk bersama memahami kompleksitas dan kekuatan transdisipliner dalam pemikiran dan tindakan untuk mencapai keberlanjutan dalam kehidupan," ujar Prof Damayanti.
Sementara itu, Rektor IPB University, Prof Dr Arif Satria menyampaikan bahwa seiring kemajuan ilmu pengetahuan dan teknologi, masalah yang dihadapi manusia pun semakin kompleks. Kompleksitas ini menimbulkan kebutuhan akan adanya pendekatan baru dalam mengatasi berbagai permasalahan yang ada dalam masyarakat dan lingkungan. Ia menuturkan bahwa pendekatan interdisipliner-multidisipliner yang lebih holistik, dimana dialog yang konstruktif dapat terjadi antar berbagai stakeholder sangat dibutuhkan.
"Seperti pada pandemi COVID-19, masalah yang terkait dengan pandemi tidak terbatas pada kesehatan saja tetapi juga ekologi, ekonomi, ketahanan pangan, pendidikan, hak asasi manusia, dan keadilan. Inti dari transdisipliner adalah usaha bersama untuk menghasilkan pengetahuan (knowledge co-creation) untuk mencapai keberlanjutan. Pendekatan transdisipliner bertujuan untuk menjembatani kesenjangan antara pemecahan masalah dan inovasi ilmiah," jelasnya.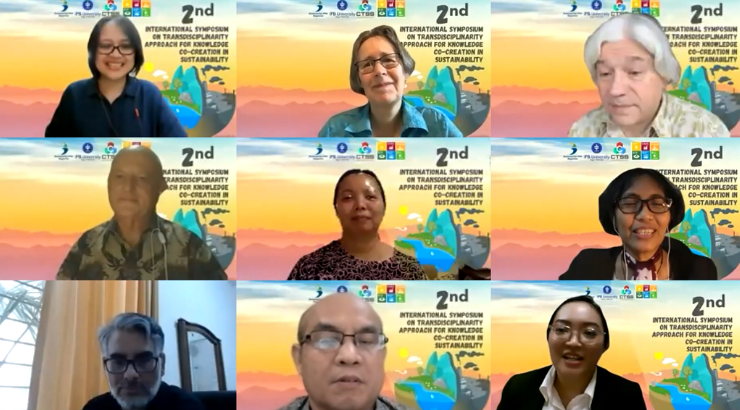 Tak lupa, Prof Arif juga menegaskan bahwa IPB University selalu menempatkan diri sebagai yang terdepan dalam pengembangan ilmu pengetahuan baik dalam sumber daya pertanian maupun ilmu pengetahuan alam secara umum. Simposium ini adalah salah satu contoh platform pertemuan dimana kompleksitas, transdisipliner, dan keberlanjutan akan dibahas untuk menemukan harapan dan solusi komprehensif yang dapat diterima bersama.
Adapun panelis dalam simposium ini adalah Prof Husin Alatas, Dr Saraswati Putri, Singgih Susilo Kartono, S.Sn, Dr Laksmi Adriani Savitri, dan Maria Loretha. (SWP/Zul)
Material Presentation :
1. Dr. L.G. Saraswati Putri, M.Hum (Indonesia University): PPT-Saras
2. Singgih S. Kartono, S.Sn. (SPEDAGI): PPT-Singgih
3. Dr. Agr.Laksmi Adriani Savitri, M.Si (Head of National Council FIAN Indonesia Food Information and Action Network): PPT-Laksmi
4. Mrs. Maria Loretha (Community Activist from Yayasan Pembangunan Sosial Ekonomi Larantuka):PPT-Maria
5. Dr. Karen von Juterzenka (Lecture of IPB University): PPT-Karen
6. Prof. Christopher P.A. Bennett (Faculty of Land and Food System The University of British Columbia):PPT-Christopher
7. Dr. Mirza Kusrini (Lecture of IPB University): PPT-Kusrini
8. Prof. Thomas Reuter (Asia Institute of The University of Melbourne): PPT-Thomas
List of committees