Center for Transdisciplinary and Sustainability Sciences (CTSS) IPB University kembali menggelar fellows meeting, (6/1). Fellows meeting kali ini diikuti oleh 17 orang yang terdaftar sebagai fellows CTSS IPB University. Sampai saat ini, telah ada 31 orang yang tergabung sebagai Fellows CTSS IPB University. Para fellows berasal dari berbagai institusi seperti perguruan tinggi, lembaga peneliti, perusahaan dan NGO.
Kepala CTSS IPB University, Profesor Damayanti Buchori menyebut, Fellows CTSS IPB University adalah sosok yang memiliki keahlian pada bidangnya, kecintaan dan kesetiaan pada alam, keadilan dan etika. Ia juga menjelaskan, "Fellows CTSS merupakan representasi dari keutuhan pandangan dari masyarakat yang beradab."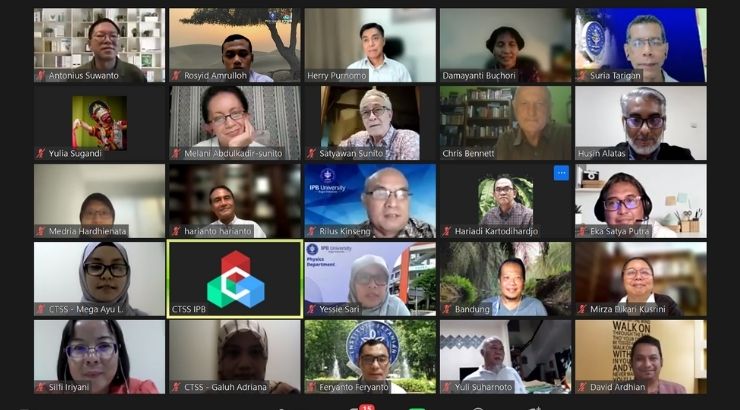 Profesor Damayanti melanjutkan, para fellows dapat berpartisipasi aktif pada berbagai kegiatan di CTSS IPB University. Tidak hanya itu, para fellows juga dapat memberikan masukan untuk kemajuan CTSS ke depan.
"Fellows dapat berperan dalam pembuatan buku, podcast, penelitian, training, maupun knowledge platform yang diselenggarakan oleh CTSS IPB University," terang Prof Damayanti Buchori.
Knowledge platform yang dimaksud antara lain Transdisciplinary Tea Talk, Graduate Student on Sustainability Seminar dan Afternoon Discussion on Redesigning the Future. Para fellows juga dapat berperan pada Task Force 4: Food Security and Sustainable Agriculture, Think 20 (T20) Indonesia.
Keyword: fellows CTSS, CTSS IPB, transdisiplin, sustainability science, sains keberlanjutan
Kategori: SDGs-4, SDGs-17